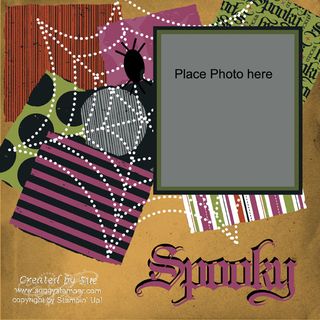 Supplies: MDS2+ (130646), MDS2 (130644), MDS2 upgrade (130650), or 30-day FREE trial of MDS2 (130910); Vintage Overlay stamp brush set (121061); Wicked Cool – spooky stamp brush set from Wicked Fun Designer Kit (127609); Spooky Bingo Bits – spider web stamp brush set (127616); 1.25 Square Punch comes with MDS2 and Punch Shapes (118853)
Sorry I have been lax in posting to my blog the last few days. I am back! I learned on www.mydigitalstudio.net that MDS2 now has a Rip Photo Edges feature that is so cool.
You have to add your designer series paper as a page layer or add a photo frame from the Design Center and drag the dsp into the photo frame. If you add it to the photo frame, you can resize the photo frame without possible pixilation of the dsp. When the dsp is added as a page layer, you will get the pixilation warning if you try to enlarge the frame. Whether you add the dsp as a page layer or in a photo frame, double click on the frame and you will find the Rip Photo Edges feature about half-way down. Clicking on this opens a Rip Photo window. You can click on the boxes to select which side to rip…I did all 4…and you can choose the rip width. I used a width of 50. Then I played with changing the dimensions of the square until I got a torn shape I liked. The resulting piece reminded me of the little pieces of paper you tear when you are doing paper machet.
Let's just say that I had a ripping good time creating this scrapbook page. Since I don't dress up for Halloween and since our grandkids don't send pictures of themselves at Halloween, I didn't add a picture. Or maybe I was the incredible invisible woman last Halloween and you just can't see the picture…LOL!
If you haven't ordered the Wicked Fun Digital Kit and the Spooky Bingo Bits stamp brush set yet, just click on their names in the supply list to be taken directly to those items in my demonstrator online store or visit my store by clicking here. I have really gotten a lot of use from these sets and they will never retire!
Thanks for coming by to visit today. Tomorrow is Terrific Tuesday so come back to see what I do with some of the new downloads.
Until next time…blessings,
Sue Erickson
sue@soggystamper.com