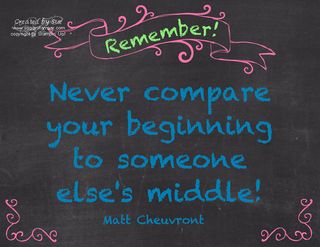 Supplies: MDS2+ (130646), MDS2 (130644), MDS2 upgrade (130650), or 30-day FREE trial of MDS2 (130910); Convention 2012 Photobook Template (130971) – frame corner 2, banner, and designer series paper; font – Chalkduster
Welcome to My Digital Craft Corner this Friday. Today I read a blog post by Matt Cheuvront which really connected with me. He ended with the above quote. When we judge how well we are doing something by comparing that with someone else who has more experience and practice, we often get discouraged and give up. I want to keep this quote close at hand so I created this wall art.
I used the Convention 2012 Photobook Template download. You may be thinking you wouldn't use this download because you are not a demonstrator or because you didn't go to convention. But you really 'need' it! Yes, it is a photobook template, but it also has a 71-piece stamp brush set, 8 Designer Series Papers, 3 embellishments, and 3 punches. What a value! I especially like the chalkboard designer series paper I used in this project.
Are you ready? Have you cleared your schedule for October 29? October 29 is National Digital Scrapbooking Day and the beginning of a week-long celebration by Stampim' Up! There will be FREE downloads and all digital kits will be 50% off!
I want to have a big blog post for National Digital Scrapbooking Day so I'd like all my readers to create a scrapbook page or card and email it to me. I'll then feature them over the next week. You have the oppoutunity to be a featured artist here on My Digital Craft Corner so get busy and email me your project.
Until next time…blessings,
Sue
sue@soggystamper.com