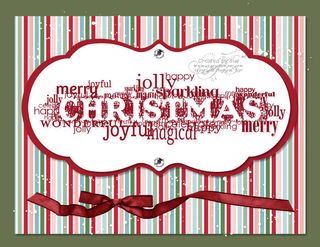 Supplies: MDS2+ (130646), MDS2 (130644), MDS2 upgrade (130650), or 30-day FREE trial of MDS2 (130910); Seasonal Sayings Stamp Brush Set (121217) and Ink Splatters 4 (part of the MDS2 content); Candy Cane Lane Photocard Designer Template (122177) Candy Cane Lane Designer Series Paper pattern 3; 1.25 Square punch (comes with MDS2) and Any Day Punch from Celebrate Any Day Greeting Card Templates (127757); Timeless Taffeta Trimmings – Long Bow (131329)
Today while I was downloading the flyer for the Single Stamp promotion of the Seasonal Sayings Stamp set, it hit me that this would make a great frameable wall art. However, the image you get with a stamp would not be big enough to make good wall art. So….MDS2 to the rescue. I have the Seasonal Sayings stamp brush set in MDS2 and with the new program it is scaleable! Here is the end result of my inspiration.
Since we are living in school housing and will be traveling next year, I don't want to purchase pictures to decorate the walls of the trailer. But…I can create wall art and hang it up for very little expense. I recolored the Timeless Trimmings bow from Basic Grey to Real Red. If I had started with a Whisper White bow, the recolor would have been too light so I chose a dark color to start with. I really liked the color when I recolored with Raspberry Ripple but it was darker than I wanted.
Thank you for coming to visit today. I am trying toincrease the number of 'likes' on my facebook page so if you like my samples, would you please go to https://www.facebook.com/mydigitalcraftcorner and 'like' the page.
Until next time…blessings,
Sue Erickson
sue@soggystamper.com