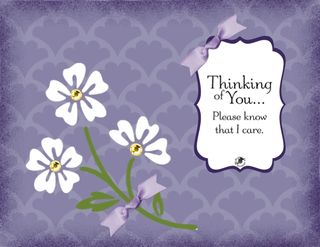 Supplies: MDS2+ (130646), MDS2 (130644), MDS2 upgrade (130650), or 30-day FREE trial of MDS2 (130910); Live Your Dreams Stamp Brush Set from Afternoon Tea II Digital Kit(129928); Thoughts and Prayers Stamp Brush Set (comes with MDS); Fancy Fan Stamp Brush Set (127348); Ink Splatters -6 (a feature of MDS2); Decorative Label Punch (123951); Timeless Taffeta Trimmings -knot recolored (131329)
A few days ago there was a post and sample where the edges of a card were sponged using the splatter tool of MDS2. I was inspired by that card to try it myself. When I applied the splatter, it covered my whole card with big splatters…not what I was looking for. So I reduced the size of the splatter immensely and then cropped just the part I wanted to use. I gave it Concord Grape color and copied and pasted it a couple of times. Then I grouped the three splatters so more of the edges could be covered in one copying and pasting. This was time consuming but what better way to spend a stormy afternoon then playing with MDS2!
The background also gave me fits. Normally I can change the drop shadow to a slightly darker color than the card stock and change the opacity of the actual stamp to 0. This gives the impressions that the card stock has been embossed. For some reason that didn't work this time. So I just changed the opacity to about 30 and I like the results.
I chose the Living Your Dreams stamp brush because it is a good candidate for using the coloring tool. I'm sorry I can't tell you where to order it. I haven't been able to find out with what download it arrived on my computer.
I created this card for a customer who was in a serious car accident this week. I am going to print it out and mail it off to her.
Thanks for coming by to visit me in My Digital Craft Corner. Do come back again soon.
Until next time…blessings,
Sue
sue@soggystamper.com
After posting this, I got my answer where I got Live Your Dreams. It is part of the Afternoon ea II Digital Kit. I have added the number in the supply list.