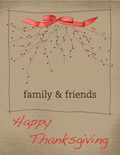 Supplies: MDS2+ (130646), MDS2 (130644), MDS2 upgrade (130650), or 30-day FREE trial of MDS2 (130910); Background- crumb cake; Stamps – (comes with MDS disc) Basic Black Texture, (127620) Grateful Heart Thanksgiving Ensemble – family & friends, branch, berries, border 1; embellishment – (131329) Timeless Taffeta Trimmings – Real Red long bow cropped and recolored with Pumpkin Pie
On Saturday night I fried my computer so I haven't been able to post for a while. Yesterday the tech person at school was able to miraculously resurrect the computer so I am good to go again. I hope you have had a great Thanksgiving with family and friends. We went over to a friend's home for dinner and now are feeling the effects of over-eating and the tryptophane in the turkey is making us struggle to stay awake. Nap time except it is 6:30 pm, much to early to go to bed and too late for a nap.
I created this card for you using many elements from the GratefulHearts Thanksgiving Ensemble. The Happy Thanksgiving is in two text boxes using the Handwriting – Dakota font, size 36. I added the bow at the top and recolored it with Pumpkin Pie and cropped off one of the ends slightly. I love that we can do these things with the new MDS2+ program.
Before I close, let me remind you of Stampin' Up!'s Online Extravaganza. There are bargains to be found of up to 50% off. This is the perfect time to find a great gift for your stamping friends. Check out the specials in my online store. Place an order through Nov 28 to not only save money but also receive a hand-made ornament from me.
Until next time…blessings,
Sue
sue@soggystamper.com