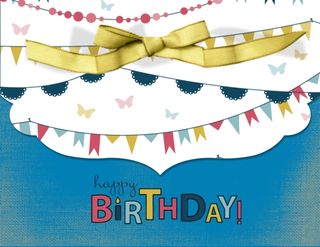 Happy Saturday evening! Why should this be a happy in particular, you ask? First, we get to sleep an additional hour tonight. Daylight Savings ends at 2 a.m. in the morning. Asls, today is National Digital Scrapbooking Day. But most importantly, this is our granddaughter-in-law's birthday. Now, if I weren't such a skilled procrastinator, I would have hand-stamped a card for her and mailed it off the first of the week. However, I didn't find out until Thursday that her birthday is today. What is a procrastinator like me to do??? Well…MDS2 to the rescue! You create a digital card and e-mail it to her or even better, attach it to a Facebook wall post. There…good deed done! However, if you are like me, you don't make it quite that easy. No, no! You decide to use the freeform coloring brush to color in the letters in "Birthday". About 45 minutes later, the card was finally finished. I hope she liked it. MDS2 is perfect for last-minute card makers like me.
Don't forget to download the 3 Free downloads Stampin' Up! is giving us as part of their week-long celebration of National Digital Scrapbooking Day. When we were last told of the total downloads of each of the downloads, we needed 11,700 additional downloads of each to get a 4th free download. I don't know what the totals are now but you have until Nov 5th to take advantage of this offer. If you don't have MDS2 yet, give the Free 30-day trial a whirl by clicking here.
Thanks for coming by to visit me in My Digital Craft Corner. Grab a cup or tea to enjoy while you browse through my projects. If you like what you see, please go to my Facebook page at http://facebook.com/mydigitalcraftcorner and 'like' me. Please also sign up for my News from My Digital Craft Corner news letter by filling in the box to the right. The November edition will be coming out next week.
Until next time…blessings,
Sue Erickson
sue@soggystamper.com
Supplies: MDS2+ (130646), MDS2 (130644), MDS2 upgrade (130650), or 30-day FREE trial of MDS2 (130910); Background – Card Stock/Pacific Point; Embellishments –
Timeless Taffeta Trimmings (131329) – long bow not quite navy (re-colored); Stamps – Basic Black Texture (came with MDS), Color = CRUMB CAKE and Bring on the Cake (124015) – happy birthday; Punches – Labels Collection Punch – 2 (129336),  Filled with: Patio Party Designer Series Paper – 4 (127190)