Stampin' Up! is rocking and rolling this month with all kinds of specials and new products! First for the new products. 4000 of this darling Texture Boutique embossing machine are being offered as a test market. This does not do die cuts but might do the Framelits and definitely does a great job of dry embossing card stock. It is light, portable, and it's footprint is smaller than the Big Shot so it will fit on your stamping table perfectly. It's price point is perfect at $39.95. Click this link for more information Download Textured Boutique flyer. Since there are only 4000 and it is while quantities last, rush over to my online store and get your's while you can. The bundle is #132700 or you can purchase just the machine for $29.95, #132657.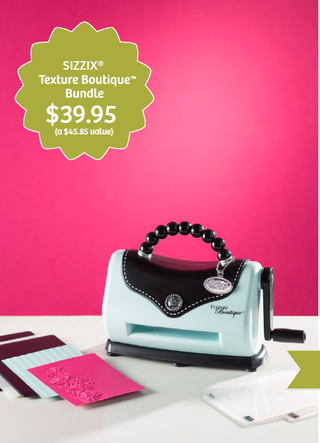 The other new item is Talking Tags. This is even cooler than ice cream! Remember the recordable cards you could buy at Hallmark and the blank ones you can buy in the 2012-2013 catalog? They are a little bulky to mail and take extra postage. Now you can buy the Talking Tags and record a 60 sec message on them. You peel the label off, put it in your card or on a scrapbook page and then record your message using a free app for your i-phone or android phone. The directions for listening to the message are on the label so your recipient can listen to what you have said. The recording will last for up to 2 years and can be listened to over and over again. Imagine…no more hand writing out journaling to explain a photo! They are available to order now. The price is $7.95 for 10 labels and the item number is 129723. Here is a link to a larger copy of the flyer Download TalkingTags_Flyer_NA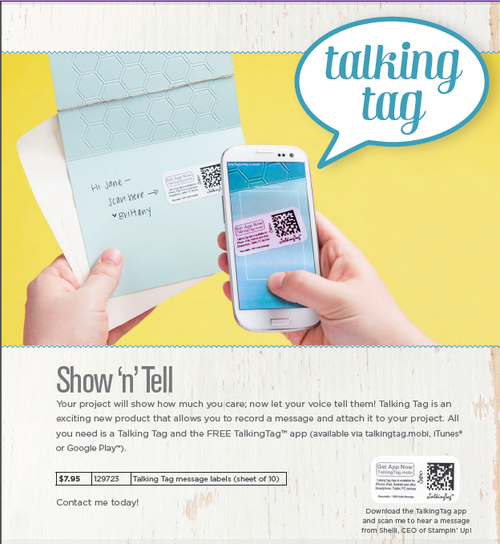 Finally, for those of you who feel  MDS2 or MDS2+ are too expensive for your budget, next week during the Online Extravaganza, these will be 50% off! Now is your chance to get in on the digital designing fun! Remember, I am always ready to help you with any questions you have.
Until next time…have a great weekend and blessings,
Sue
sue@soggystamper.com