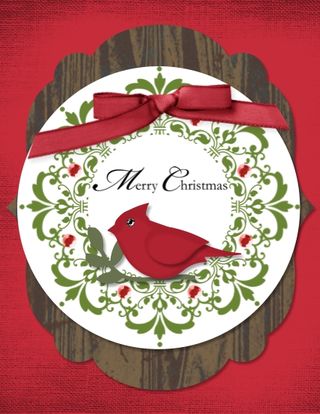 Supplies: MDS software, Papers – Card Stock/Real Red, Well Worn Desiger Series Paper – 8 and 10; Embellishments – Blossom Builders Embellishments (129609)/Rhinestones – 2mm Poppy Parade, Timeless Taffeta Trimmings (131329) – large bow real red (re-colored Cherry Cobbler), Basic Pearls and Rhinestones (124330) – rhinestone small (re-colored black); Stamps – Basic Black Texture (came with MDS DVD), Daydream Medallions (130854) – doily 1 and 2, A Cardinal Christmas – merry christmas; Punches – Labels Collection 2, 1.25 Circle Punch, Extra-Large Two Step Bird Punch (122131)
MDS2 is so versatile that you can very often create a digital version of a traditional card that is so realistic that you have to touch it to realize that it is a digital card. Yesterday I posted two cards, one traditional and a copy that was digital. You can see the comparison of the two here. I have so much fun playing with MDS2 and challenging myself to do things digitally that I would do traditionally. If you haven't tried MDS2 yet, what are you waiting for? I know some people love getting their hands inky and sticky with glue and love having a cluttered work space…I know you…because I am one of them.
However, I also love digital crafting because I can leave that messy workspace behind and have everything I need and more right at my fingertips. If I need a particular stamp brush which I don't have, all I have to do is go online to place my order for it. In a few minutes I have downloaded and am ready to use it. I don't have to waith for it to come by mail. When I am finished with a project, there is no cleaning up necessary. Perfect!
So click here to give MDS2 a free 30-day trial. You can order downloads from me during the 30 days and you can send off projects to be printed during this time. If you find you love MDS2, you can then purchase it and all your projects you have created will be transferred over to the purchased program automatically. You just need to be sure to order the purchased program before the 30 days actually end to save the work you have done. Click here to get the free trial. I'm always ready to help you get started.
Until next time…blessings,
Sue
sue@mydigitalstudio.com