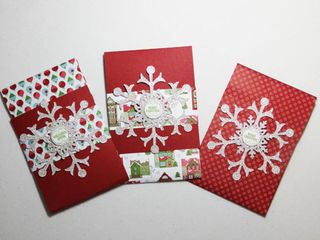 That is…3 days left to order from the Holiday Mini Catalog! Some items in the catalog are being carried forward into the Spring catalog and are listed on page 36 of that catalog. However, the Snowflake Flurry Bigz Die is not one of those items. I'm hoping it will appear in the new 2013-2014 big catalog as I really love it. But don't take your chances! If you don't already own the die, order it today while it is still available.
Here are three gift card holders I made using the Snowflake Flurry Bigz Die (127813), Silver Glimmer Paper (124005) and Snow Festival Designer Series Paper (126908). I used the Petite Pocket Bigz Die (123131) as the starting point of the holder. The gift cards were too big to fit in the pocket so I altered them by folding the dsp in half lengthwise and placing the fold just inside the right-hand side of the die. I also wanted the pocket to be taller so I folded the dsp down at the top and put that fold just under the top edge of the die. I know I haven't explained this very well. I'm thinking I should make a video showing how to do this. I'll post the video when I get it done.
There are lots of wonderful items that are being carried over in the Spring catalog but some of my favorites like the Candlelight Christmas Specialty Designer Series Paper (126901), Snow Festival Designer Series Paper (126908) and the Scentsational Season stamp set bundled with it's corresponding Holiday Collection Framelits (w-129945, c-129946) will not be available after Jan 2. Place your order now so you don't miss out! Either click on the linked name of the item or visit my online demo store.
Thanks for being a faithful reader of this blog during 2012. I look forward to sharing more ideas with you in 2013. May the new year bring you fresh blessings in abundance each day.
Until next time…blessings,
Sue
sue@soggystamper.com