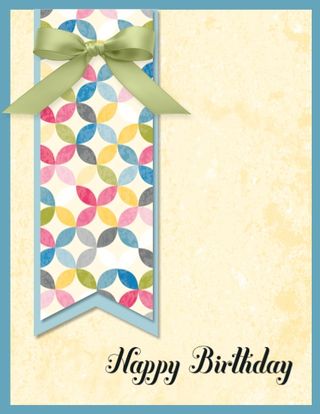 Supplies: MDS2+ (130646), MDS2 (130644), MDS2 upgrade (130650), or 30-day FREE trial of MDS2 (130910); Background – Card Stock/Marina Mist; Embellishments – Satin Ribbon (121063) – Certainly Celery bow; Stamps – Bring on the Cake Stamp Brush Set (124015) – Happy Birthday Script; Punches – Flag Punch (125785) Filled with: Sunshine & Sprinkles Designer Series Paper – 11 and 16 (130670)
I discovered this morning that today is a friend's birthday and wanted to send a birthday e-card to her via FaceBook. So I open up my MDS2 program on my computer and create a card, attach the photo of it to a comment on her wall and deed is done!
That is one reason I love MDS so much! It is so convenient! There is no mess and no fuss! Are you ready yet to give digital crafting a whirl? Click on the 30-day FREE trial of MDS2 link and get started. I am here to help you so don't hesitate to ask for the help.
Now on to the card. I love the new Sunshine & Sprinkles Designer Series Paper you can purchase from the new Spring Catalog and am so delighted that it is also available in digital form. The colors are so cheery! I used it to fill the flag punch. I added a second flag punch and used the color picker feature to fill it with a shade of blue from the dsp.
The yellow layer is the 1.25" square punch filled with another pattern of the Sunshine & Sprinkles dsp. Originally I had filled it with one of the creamy colors in the flag's dsp. I loved the color but wanted more texture on that layer so I filled the punch with dsp instead. (It's so wonderful to be able to change your mind with a few keystrokes and not have a wasted piece of paper!) The greeting is from the Bring on the Cake stamp brush set. I have included the index for this stamp set and an index of the wonderful Sunshine & Sprinkles dsp below.
To order any of the supplies I used in this project, either visit my online store or click on the links under the photo.
Thanks for coming by to visit today. Please grab a cup of coffee or tea and take time to browse my blog. If you like the projects you see and would like to see more, subscribe to my monthly newsletter by filling out the form on the right.
See you tomorrow for Terrific Tuesday,
Sue Erickson
sue@soggystamper.com