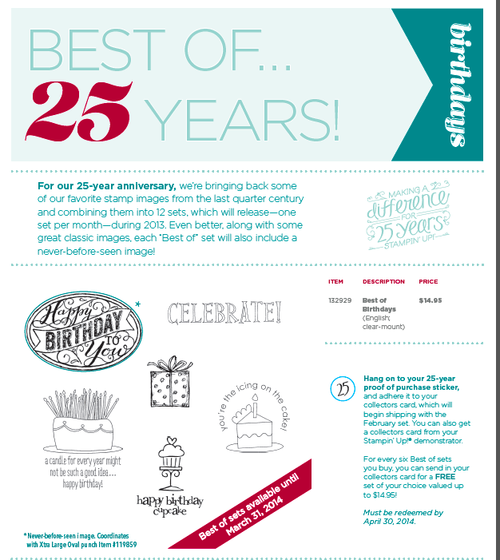 To celebrate Stampin' Up!'s 25 years of bringing us beautiful, high quality stamps, the company is going through their storage vaults, collecting the best stamps from the last 25 years, and grouping them into 12 collections of 3-5 stamps. Each collection will also have a brand new, never-seen-before stamp. A new collection will be released each month this year. These stamp sets are only going to be available in clear mounts and will sell for $14.95. The first one is Best of Birthdays.
You know you will want to collect them all! When you purchase any 6 of these sets, you will be able to choose a $14.95 or less stamp set for free. Collect all 12 sets and you can get 2 free $14,95 sets. Stampin' Up! has even created a collection card for you to keep track. The collections will be available to order through March of 2014.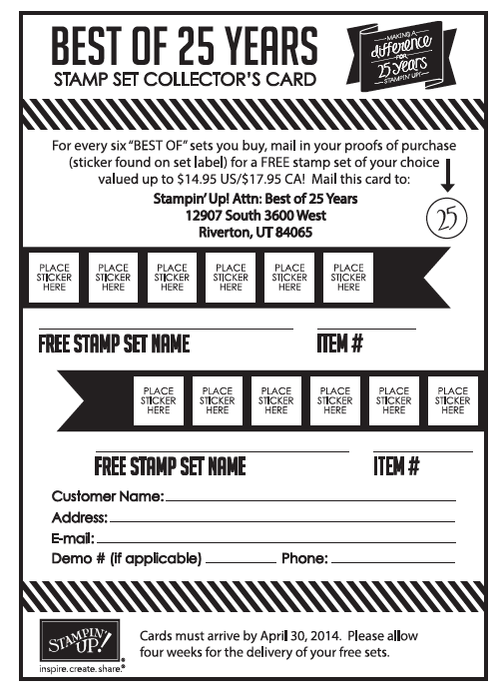 To start your collection, click here to order the Best of Birthdays (132929).
Thanks for stopping by to visit. I invite you to grab a cup of coffee or tea and spend a little while browsing through my blog. If you like what you see and would like to receive my monthly newsletter filled with tips and exclusive projects, fill out the box on the right to subscribe.
Until your next visit…blessings,
Sue Erickson
sue@soggystamper.com