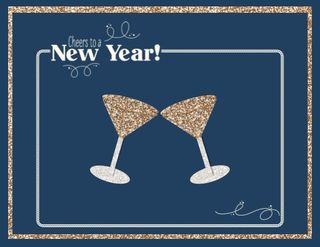 Supplies: MDS2+ (130646), MDS2 (130644), MDS2 upgrade (130650), or 30-day FREE trial of MDS2 (130910); Stamps – Oh What Fun Overlays (123568) – new year, Color = VERY VANILLA; Punches – 1.25 Square Punch, Candlelight Christmas – oval from Candlelight Christmas Ensemble (1283135), Freehand Frames – triangle from Freehand Frames Overlays Stamp Brush Set (132559) 
Happy New Year! I pray that this coming year is filled with good things and happy memories for you all and plenty of digital creating. I could not find a stamp brush set that had wine glasses in it or champagne glasses so created these by using the oval punch, a square punch for the stem and the triangle punch reshaped for the top of the goblet. Now that I think about it, I realize that champagne wouldn't be drunk from this shape goblet but you get the idea anyway. Cheers!!!
Today is also Terrific Tuesday because, even on New Year's Day, Stampin' Up! has given us new downloads. One of them is even a free calendar for our desktops! Thank you Stampin' Up! Click here to view these downloads and order the ones you like. Come back tomorrow to see what I create with the ones I order. If you haven't tried MDS yet, give it a try by ordering the free 30-day trial of MDS2. Some of the advantages to digital creating are:
No need for storage space for your stamps and supplies other than your computer
Digital downloads don't retire, wear out, get lost and rarely get damaged. If they do, you can download them again at no additional cost.
There is no time wasted getting out supplies and cleaning up afterwards.
Your photos are most likely residing on your computer already.
If you like the tactile sensation of handling paper and supplies, you can print out your creations and mount them on card stock. Then you can add embelishments to create a hybrid card or scrapbook page.
I love helping people get started with MDS so don't hesitate to give it a try. I am here to help with your questions.
Until next time…blessings,
Sue
sue@soggystamper.com