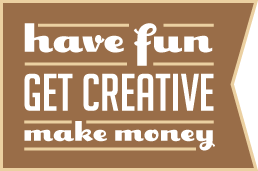 Have you set a New Year's goal to take charge of your finances instead of them dictating to you?
Well…now is a good time to do so! You can start earning money with your own paper crafting business this month by joining my team of Stampin' Up! demonstrators. You don't have to be particularly crafty because there are lots of people willing to give you creative ideas. You don't have to have lots of money to start your business as our starter kit is just $99. You don't have to know how to hold a workshop or advertise or run a business before you start. I'll teach you what I know and direct you to additional sources of guidance. But…to earn money in this business, you do have to be able to discipline yourself to consistently work the business for whatever specific amount of time each week you choose to work and to carefully monitor your business expenses. Sale-a-bration is a good time to start your business because customers traditionally purchase more to get the free product in the Sale-a-bration brochure.
Joining my team is easy. Click here to learn more about the opportunity. Click 'Join Now" to join. You will need to have your credit card handy. Give me a call or email me if you have questions. I'm looking forward to working with you!
Until next time…blessings,
Sue
wue@soggystamper.com