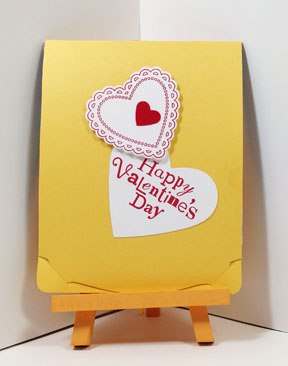 Here is another card I have made using the Pop 'n Cut Card base (130099) and Dress Form Pop 'n Cut (130100) dies. I used the Hearts A Flutter stamp set (c- 129252, w-129249), Hearts a Flutter Framelits dies (130159), small heart punch (117193), Hearts Collection Framelits die (125599), and Whacky Wishes hostess set on the front of this card.
Nice card so far…well except I normally wouldn't use yellow for a Valentine. This card didn't start out as a Valentine…LOL! But look what is inside…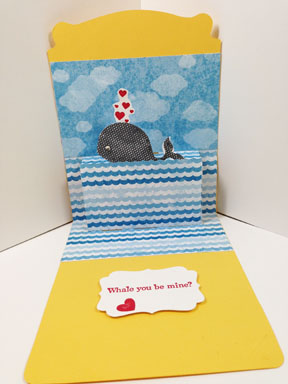 It's sooooo cute! I absolutely love this cheerful whale. I really hope it makes it into the 2013-2014 big catalog in June! So how did I use the Dress Frame to make this pop-up card? I just cut off the top of the form even with the top fold line. I put a piece of scotch tape under the rest of the form to make the 'shelf' solid. Then I adhered a piece of the sky pattern in Sunshine & Sprinkles Designer Series Paper (126922) above the top fold to cover the hole. I cut the top edge of a piece of the wavw pattern along the waves and glued it to the upright supports of the pop-up. Finally I slipped the whale between the dsp and the horizontal 'ledge'.
Order your own dies by clicking on these links:
Card Base Pop 'n Cuts die (130099)
Dress Form Pop 'n Cuts die (130100)
When you receive them, have fun creating your versions of pop-up cards. Finally, email photos of your creations to me and i'll feature them on this blog.
Thanks for coming to visit today. Come back again soon. I have several more ideas for these dies that you won't want to miss.
Until your next visit…blessings,
Sue
sue@soggystamper.com