In last night's blog post I shared these pictures of this Pop 'n Cut card and talked about the wonders of the Dress Form Pop 'n Cuts and Card Base Pop 'n Cuts dies. Today I want to focus on the stamp set The Open Sea (w-123030, c-123032).
I like this set for several reasons. First, I live on an island in SE Alaska and boats, ships, and ferries are our way of life. There is something very romantic about sailing ships and they speak of adventure.
I love the vintage look of this stamp set as well. Stamp in in Crumb Cake, Basic Grey, or one of our wonderful blue inks. I stamped the compass with Pacific Point ink but stamping it with one of the red inks would also be very vintage.
Finally, I love the versatility of The Open Sea stamp set. It could be used on a Bon Voyage card, on travel scrapbook pages, or for a masculine birthday card like this one. Check out the different images in the index below and then click on the links above to order the set. While you are in my online store, remember to order stamping supplies you are running low on. I appreciater your business.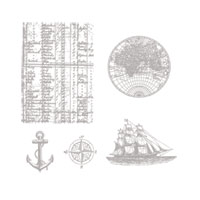 Until your next visit…blessings,
Sue
sue@soggystamper.com