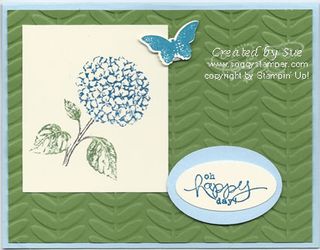 Supplies: Vine Street TIEF (130492); Best of Flowers stamp set (133342); Bloomin' Marvelous stamp set (129651-W/129654-C); Bitty Butterfly Punch (129406); Bashful Blue, Gumball Green, and Very Vanilla card stock; Large Oval Punch (119855); Extra-Large Oval Punch (119859)
Happy Plant a Flower Day! Yep…today is Plant a Flower Day and boy do we need flowers here in SE Alaska. Last week was sunny and you could feel spring in the air. This week we are having snow showers…go figure! Typical SE Alaska spring weather.
So what kind of flower would you plant? I love hydrangeas and would plant one of those if we weren't in temporary housing. Instead, I created this card with the hydrangea from the Best of Flowers stamp collection. This is Stampin' Up!'s 25 year anniversary and they have gone into their stamp vaults and brought out the best stamps in each category to create an anniversary stamp set. Each month they offer us a new set and in that set is a stamp that has never been seen before. Click here to see the sets released so far.
The Vine Street embossing folder and the Bloomin' Marvelous stamp set are two of the items you can choose when you order $50 of product during Sale-a-bration. There are only 10 days left in Sale-a-bration so order now through my online store. I don't want you to miss out on this great opportunity to stock up on card stock, adhesives, and supplies and get free exclusive product at the same time. Check out the Sale-a-bration offerings below. If you want two items, then buy $100 in product. Order $150 in product, get 3 items and get $25 in hostess benefits!
Thanks for coming by to visit today. Before you leave, let me know what flower/flowers you would plant today in a comment below.
Until your next visit…blessings,
Sue