If you weren't at our card exchange club last night you missed out on a lot of fun. Hubby is out of town and I can think of no better way to spend an evening than spending time with my stamping ladies creating gorgeous cards, laughing, and having fun. This is the card you missed out on creating.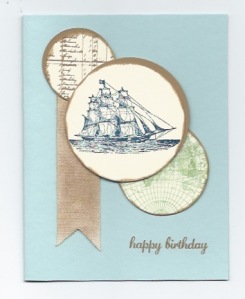 One of the new toys…err…tools I purchased this month is the Circles Collection Framelits. I was hoping they would take the place of all my circle punches thus saving me space in our travel trailer. However, the only one that duplicates a punch if the 1″ diameter one. The rest complement the circle punches. Here are the measurements of the circle framelits: 5/8″, 1″, 1-1/2″, 1-7/8″, 2-3/8″, 2-3/4″ 3-3/16″, 3-5/8″, 4″, 4-3/4″ which is the scalloped one. My dear, sweet husband said, " Take the punches also. You will be really frustrated when you need that particular size and it is in storage." Thank you, dear!!!
This tomorrow is the Blessing of the Fleet, an annual tradition in fishing communities. I thought The Open Sea was a particularly fitting stamp to use last night. Sail boats and sailing vessels like this have a romantic aura for me but I also know they are a lot of work!
Did you know that you can stamp on and color the cotton ribbon? I felt the natural color of the ribbon would be too light for this card so I used a sponge dauber to sponge Baked Brown Sugar ink on it.
Thanks for coming to visit me today. As always, order the supplies needed to make this card by visiting my online store or by clicking on the hyperlinked names of the supplies.
Supplies:
Stamps – The Open Sea (128454w, 123032c), Express Yourself (130336w, 130339c) hostess set
Card Stock – Soft Sky, Baked Brown Sugar, Very Vanilla
Ink – Night of Navy, Gumball Green, Baked Brown Sugar
Other – Circles Collection Framelits (130911), 7/8″ Cotton Ribbon (127844), Big Shot Die-Cutting Machine (113439), Sponge Daubers (102892)