The Stampin' Up! 25 year celebration at convention is over and almost 7000 demonstrators are now headed home. Rich Judkins, the president and COO of Stampin' Up! spoke at the closing ceremony about how very important it is to be innovative and how to learn to be that way. Now that I am no longer physically in Craig to be with my card exchange group, we have to be innovative in the way we connect.
Last Wednesday, I was in Pocatello, Idaho, on my way to convention in Salt Lake City. The stampers were meeting in Craig. I had already prepared kits with the card stock all cut and directions for the project. I called Dina on facetime and had a wonderfully fun evening helping them with the project from a lawn chair. Check out these photos.
It is the first time I have taught a workshop remotely. We made this card.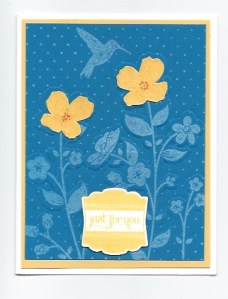 I love this sample using the Wildflower Meadow embossing folder and the coordinating stamp! I made it as one of my convention samples as well. The Pacific Point blue, Whisper White, and Daffodil Delight yellow make such a crisp and clean color combination. Have you purchased the Wildflower Meadow bundle yet? By purchasing the bundle, you save 15% so go order it here.
Supplies:
Wildflower Meadow Bundle (132985-c, 132735-w), Label Love stamp set (130619-w, 130622-c}, Artisan Label Punch (130920), Pacific Point card stock, Daffodil Delight card stock, Whisper White card stock, Whisper White Craft Stampin' Ink Pad (101731)