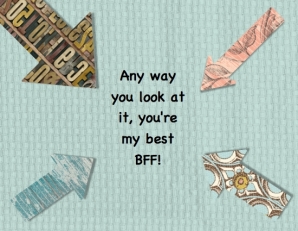 Yeah, I know…it isn't Tuesday any longer. On Tuesday I was sitting in a hospital room with Ron waiting and hoping the doctor would come say Ron could go home. It wasn't until Wednesday that he got released. Then we had to move the trailer to a new RV park that is closer to Seattle and also get my car out of storage. Yesterday was spent with doctor appointments so today is the first day to relax and get back to blogging. You can see ad order this week's downloads here.
I have resisted buying the Soho Subway dsp from the catalog because I always end up with lots of paper left over. I guess I hoard it, just maybe??? LOL! It is one of the new downloads from last Tuesday and I jumped on the opportunity to have a digital version of the paper.
This card is not my usual style. I was surfing through my punches and saw the arrow punches. The idea for this card suddenly popped into my head and here it is. I had fun choosing the different patterns of the Soho Subway Designer Series Paper. I just can't have a plain card stock background so I added the Natural Composition Overlays – 11 in Basic Gray with a 40% opacity for texture. I love the various designs of the Soho Subway Designer Series Paper and think I will order it during Stampin' Up!'s buy 3 get one free promotion. The promotion has only five more days to go. Order your favorites now!
Supplies:
MDS software digital download (130646), MDS software disc (130647), or 30-day Free Trial of MDS (130910)
Stamps – Natural Composition Overlays (130855)
Paper – Soho Subway Designer Series Paper digital download (134845)
Other – Arrows 1,2, and 3 punches which come with MDS