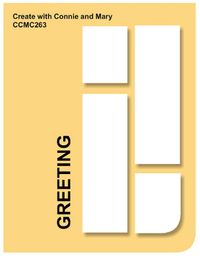 I love this sketch for challenge 263 on Create with Connie and Mary and I challenged myself to create a card with this sketch using MDS. I am really excited how the card turned out.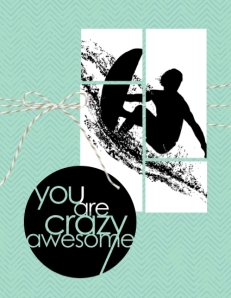 How did I get the stamped image cut into four parts? I opened a 4.25 x 5.5 greeting card in MDS. On the first page I added four photo frames and sized them the way the sketch was. Then I grouped them. On the second page of the card, I added the Extreme Surfboard stamp and resized it to fit. Then I saved the second page as a jpeg to my desktop. Next I went back to my grouped photo frames and dragged the second page into the frames. Voila…it was spread out across all the frames. I had fun choosing a greeting to fit the extreme stamp, and added Baker's Twine for embellishment. I have a thing about naked backgrounds in MDS so I added the chevron overlay and changed the color to Baja Breeze to give a subtle texture to the Pool Party card stock.
I love playing with MDS and challenging myself to recreate traditional cards with MDS. If you are ready to join in the fun of creating with MDS, you have several options for ordering. I have listed them below. Just click on one of them to go to my online store and order. MDS is a great bargain at only $19.95. Included in this bargain is my expertise and tutoring. I am available and ready to help you learn to make exciting digital scrapbook pages and greeting cards.
Supplies:
MDS software digital download (130646), MDS software disc (130647), or 30-day Free Trial of MDS (130910)
Stamps – Extreme Surfboard (124218), Fantabulous You (129920) also comes with MDS, Decorative Overlays – chevron (129880)
Other – Crumb Cake Baker's Twine (comes with MDS software)