If you come this afternoon the the Craig/Klawock stampers group at 1:30 pm at Dina's place you will get to make a Christmas card using the Mosaic Madness stamp set. How do you ask? Where is the sample? Well, darn it…I forgot to take a picture of the sample before mailing it off to Craig! I guess you will just have to come to the workshop to see what this is all about.
We will also be making envelopes from designer series paper using the new Envelope Punch Board. I have sent a couple of samples with directions on how you can also use this punch board to make a box that will hold up to 8 cards with their envelopes and a holiday wrap for a candy bar treat. This is what the punch board looks like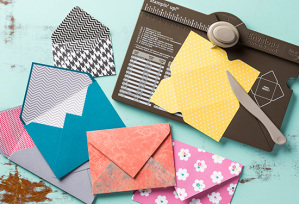 You can make up to 66 different sizes of envelopes. To seal the envelopes use SNAIL adhesive (be sure to burnish the adhesive well), 2-Way glue, or Sticky Strip. The measurements and cutting guide is right on the board. The opposite side of the punch is a corner rounder that makes a perfect mat to the 3/16″ corner punch. The $19.95 price is so reasonable for all the fun you will have making one-of-a-kind envelopes from designer series papers! Order your punch here.