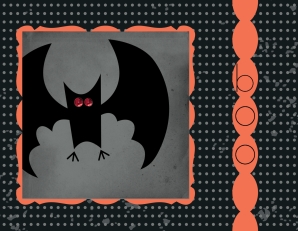 The challenge for this card was to use an oversized image and a border on a greeting card. A Halloween theme immediately came to mind so I went to my arsenal of Halloween files in my MDS program. I chose the Spooky Bingo Bits bat for my oversized image and a Tasteful Trim Border punch filled with Tangerine Tango color. Red Sara's Sequins add a spooky gleam to the bat's eyes.
The bat is on a mat of a square punch filled with Basic Grey and the Convention 2012 Curvy Frame punch filled with Tangerine Tango. I always like to add overlays to my backgrounds for added texture so I used the Vintage Overlay Texture 11 stamp. I resized it to just fit the Basic Grey square.
Fitting in a greeting on this card is a challenge. I decided to go with simple lettering placed on the border using the Alphabet Soup punches.
Have you tried creating with MDS? Some of the reasons I love it are that I can change my mind and play around with the design elements without wasting any card stock and when I am finished with a project, there is no clean up time. All I have to do is save the project. I can send it by email to a friend. I can print it out and it is done. Or I can print out just the card front and mount it on card stock for a hybrid card. You can order your copy of the program for just $19.95 or you can even give it a try for free for 30 days.I thing you will enjoy it as much as I do. Click on one of the links below to place your order.
Supplies:
MDS software digital download (130646), MDS software disc (130647), or 30-day Free Trial of MDS (130910)
Stamps – Spooky Bingo Bits (127616), Vintage Overlay (121061)
Punches – Alphabet Soup (129015), Tasteful Trim Shape 2 (123997), Convention 2012 Curvy Square Punch from Convention 2012 Photobook Template (130971), 1.25′ square punch (included in MDS program)
Embellishments – Sara's Sequins (133903)