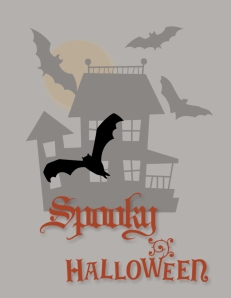 Happy Halloween to you! Don't let the goblins get you today! The day I created this digital Halloween card, it was really foggy and I thought of how spooky an old deserted house would look on a foggy night.
So how did I get the foggy look? First I added the house from Spooky Bingo Bits to a Smoky Slate background and enlarged it some. Then I added a circle punch and filled it with More Mustard. I added a drop shadow of Crushed Curry with 100% opacity and full blur and off set it quite a bit. I added the Spooky Bats which are in the Wicked Fun Kit and the greeting stamps.
To get the foggy look, I added a square punch enlarged to 4.25″ x 5.5″ and aligned it over the card. I filled it with Smoky Slate color and decreased the opacity to about 75%. I used the layers tool to move this layer back behind the greeting and the foremost bat. I love that layer tool!
So what do you think? Did I achieve the foggy look? Let me know in a comment below. If you want to create this card for yourself and need some of the supplies, click on the links below or visit my online store.
Supplies:
MDS software digital download (130646), MDS software disc (130647), or 30-day Free Trial of MDS (130910)
Background
Card Stock/Smoky Slate
Stamps
Spooky Bingo Bits (127616) – haunted house
Wicked Fun Kit (127609) Spooky Bats stamp set – bat 1, 2, 3, 4/Wicked Cool stamp
set – spooky, Color = CAJUN CRAZE
Spook Central Designer Ensemble (127589) – stamps – halloween, Color = CAJUN
CRAZE
Punches
Basics/1.25 Circle Punch, Fill Color = MORE MUSTARD
Basics/1.25 Square Punch, Fill Color = SMOKY SLATE