Photopolymer stamps? What are they, you ask? Photopolymer stamps are a type of totally clear stamps that Stampin' Up! has started offering. Stampin' Up! spent a lot of time researching for the best photopolymer material to make these high quality clear stamps. A benefit of the clear nature of the stamp is that you can see when you have enough ink on the stamp and you can see exactly where the image is being placed. They are really sticky so they don't fall off the clear acrylic blocks like the clear mount stamps sometimes do but they are easy to remove for storage.
Today I want to introduce you to two new stamp sets that are particularly designed for Christmas. The first set, Christmas Tagables (134623), is a grouping of stamps for tags. Check them out. Click on the image to view them at full size and place your order.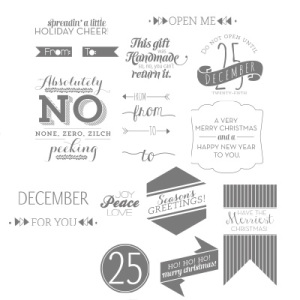 The second set is Endless Wishes (133455). I love this set as it has a variety of words on separate stamps so you can create your own greeting. Just imagine…unlimited possibilities to match your imagination! The set also includes three beautiful snowflakes.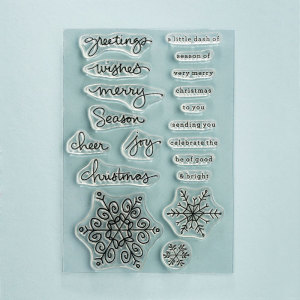 There are only 10 more Saturdays until Christmas. Have you started your Christmas cards yet? Maybe tone of these sets is the one to get you going. Order it today.