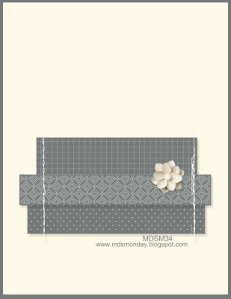 It is time for another MDS Monday sketch challenge. This is the sketch and the challenge is to use an embellishment you don't usually use.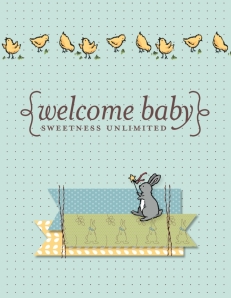 This is my version of the sketch. I have had the Storytime Ensemble for a long time and haven't used it. So the bunny counts as the embellishment challenge. I love the softness of the colors and I guess I created the card for a new baby boy. Now all I have to do is find someone who has a new baby boy. Or…I could change the background color to a lovely pink and give it to a new baby girl. By using MDS, it is a simple couple of keystrokes to change the color. :o)
Since I have a thing about backgrounds not being plain, I added the Hip and Handsome Overlays pattern 10 and changed the color to Chocolate Chip. Now I have a unique polka dotted designer series paper with me being the designer! ;o)
Tip:  I have discovered that overlays really slow down updates on your card when you add new elements to the project so I wait until the very last step to add the overlay.
I filled the flag punch with papers from the Nursery Designer Series Papers and used Welcome Baby greeting from the Sweetness Unlimited stamp set recolored to Chocolate Chip.
The chicks border was created with another embellishment in the Storytime Ensemble. I just copy and pasted the image of three chicks across the top of the card.
If you want to create this card for yourself and need some of the supplies I used, just click on the links below or visit my online store. I really appreciate your business.
BTW spend for each $50 amount spent in product at one time, you are eligible to enter your name on my 50/50 board. Read about this program here
Supplies:
MDS software digital download (130646), MDS software disc (130647), or 30-day Free Trial of MDS (130910)
Background
Card Stock/Soft Sky
Embellishments
Staple & Stitching (118865)/Chocolate – Simple Stitches line 1
Storytime Ensemble (127195) – bunny and chicks embellishments
Stamps
Hip and Handsome Overlays (125753) – 10, Color = CHOCOLATE CHIP
Sweetness Unlimited (124461) – welcome baby, Color = CHOCOLATE CHIP
Punches
Flag Punch (125785),  Filled with: Nursery – designer series paper/Nursery – 2, 6,10