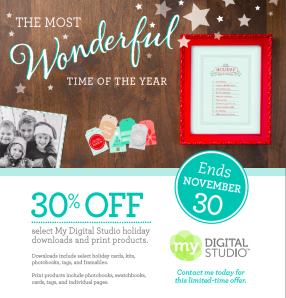 This is an extra special Tuesday because, not only do we get new digital downloads to buy including a FREE November desktop calendar, today begins a 30% OFF MDS sale of downloads and print products! Click on the image above to go check out the MDS sale and go here to check out today's new downloads.
Here is a tip for you when viewing what digital kit downloads contain. Here is a screen shot of the Fall Memories November Kit (135910).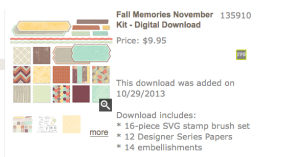 See the little magnifying glass in the lower right corner of the index? When you click on that, a larger size of the index is opened. On the side of that larger image is a white arrow. When you click on the arrow, it shows another page. Keep clicking on the arrows to scroll through all the pages. For this particular kit, the stamp brushes are displayed on their own page, the embellishments on another, and each of the designs of the designer series papers are displayed individually. How great is that!!! I would have passed on getting this kit until I saw the wonderful stamps and larger sizes of the dsp that come with the kit.
Oh, and don't forget to check out the weekly deals. They are here.
I did create a digital card for Terrific Tuesday but with all the other pictures I have in this post, I will just give you a snippet of the card. To see the whole card and the supplies and technique I used for it, you will have to come back on Oct 31. Cackle, cackle, hehehe!