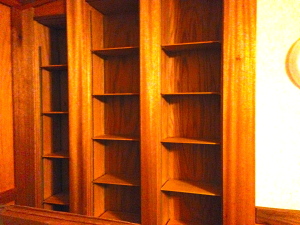 Whoohoo! My shelves for holding all my stamp sets are finally ready! The stamp room is slowly taking shape. I still have a lot of 'stuff' to find places to stuff it but each day I make progress. My goal is to have it ready by Nov 23 so I can hold a Holiday Open House that day. This photo makes it look like the shelving is fairly long. Actually, the smallest shelves are only 7 3/4″ long and the largest is 11 3/4″ long and they are 8 inches deep. This is perfect for holding stamp sets. I am thinking of maybe adding more shelves closer together in the narrowest section to hold my new style punches. I have two more sections of narrow set-in shelving. When my room is finished, I'll be sure to share pictures of it.
Stamp storage tip:I keep the stamps in a set together in the case they come in. Then I 'file' them on the shelves by category like flowers, kids, sayings, etc.
Paper scrap storage:
Stampin' Up! sells Large Flat Cello Bags 6″ x 8″. The number is 102210 and come in a package of 50 for $4.95. I store my 81/2″ x 11″ card stock in hanging file folders. I have the color name written on one of these cello bags for each color card stock I have. Then I put the scraps into the cello bag and put it into the hanging folder with the corresponding color of full pieces. When the scrap is bigger than 5 1/2″ x 8 1/2″, I trim it down to the half sheet which fits perfectly in the cello bag. I keep dsp scraps in the same package as the whole sheets. If you would like to try this method of storing your scraps, click on the link to order them. You can also visit my online store to order any other supplies you need.