I love interesting dates and today is a stellar one! 11-12-13! Whee, that was fun to type! That in itself makes this a Terrific Tuesday. On top of that, we get new digital downloads on Tuesdays! This week, not only do we get digital downloads but we also get three online classes using MDS digital downloads and techniques! Check out all that is offered this week and order your favorites here.
I have been thinking of ordering Santa's List stamp set from the Holiday Catalog but have put off doing it because I am trying to cut back on my expenses this month. I was happy that it is now available in digital form and it is now in my library. Yay! I created this card with that download. I love Santa's cheery face!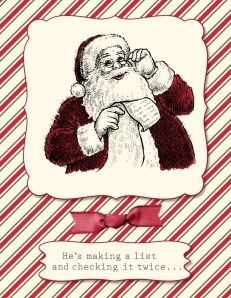 Supplies:
MDS software digital download (130646), MDS software disc (130647), or 30-day Free Trial of MDS (130910)
Background
Joyful Times Kit (130850) Joyful Times Designer Series Paper – 9
Embellishments
Timeless Taffeta Trimmings (131329) – knot soft suede (re-colored)
Stamps
Santa's List (136515) – santa, colored with freeform brush and Cherry Cobbler co
Santa's List – checking it twice, Basic Black color
Punches
Convention 2012 Photobook Template (130971)- curvy square frame 2 punch, Fill
color = Very Vanilla
Petite Curly Label Punch(stretched) from Punch Shapes (118853), Fill Color = Very Vanilla
The third reason this is a terrific Tuesday is that the Weekly Deal is changed on Tuesdays. Check them out and order them quickly before the supply runs out!!!