I've been really neglecting my traditional stamping for quite some time now. Settling into our house has been taking a lot of time. It's hard to find new homes for all our 'stuff' and I mean 'stuff'. Goodness, my tiny little stamp room in Craig was crammed with stuff. Here I have a much bigger room but less storage as it doesn't have a nice closet to stash 'stuff' in. It is a challenger to find places to stash my stash. I may have to…oh horrors!…just throw away some of the stash that has been sitting around for YEARS!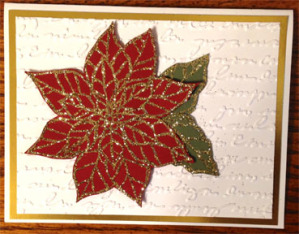 Anyway, I did create this card for my Craig stampers to make yesterday. I have been introducing them to heat & stick powder and glitter. This is the second month they have used those supplies. I'm just glad I don't have to clean up all the extra glitter. :o) In case you are wondering, the print in the background doesn't say anything. It isn't even actual letters. The artist just wanted to simulate handwriting and I think they did a great job.
If you haven't experimented with the Heat & Stick Powder yet, let me give you a few tips.
Don't use a stamp whose image has a lot of detail. The detail gets lost in the glitter.
As usual, brush an Embossing Buddy over your card stock first. Then stamp your image with Versamark ink.
Then sprinkle Heat & Stick powder over the image like you would embossing powder. The Heat & Stick powder may be lumpy. It is OK to smash the lumps.
Use your heat tool to melt the powder just until it becomes shiny. Overheating will drive the powder into the card stock and it will lose its stickiness.
Sprinkle your glitter on, tap off the excess, and then heat the image again for about 5 sec. This will help set the glitter.
I encourage you to give this product a try. You will be able to have glitter on precisely the lines of your image. Click on the linked products below to order the supplies for this project or visit my online store to order them.
Supplies:
Stamp set: Joyful Christmas (131805-c, 131802-w)
Ink: Versamark (102283)
Card Stock: Whisper White (100730), Cherry Cobbler (119685), Always Artichoke (105119), Gold Foil Sheet (132622)
Other: Pretty Print Textured Impressions Embossing Folder (132175), Gold Stampin' Glitter (132205), Big Shot Die-Cutting Machine (113439)