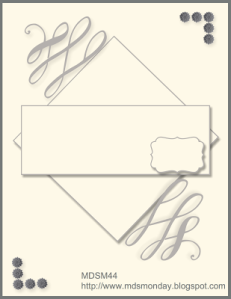 Here is a fun sketch for a card from the MDS Monday blog. Part of the challenge was to use flourishes. Once I added the flourishes to my card, they reminded me of fireworks. So I made the card into a Happy New Year card. Here is the result.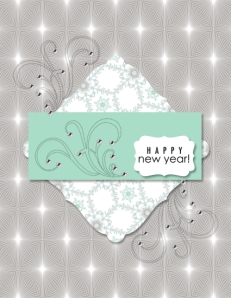 I started with a base of Winter Frost Designer Series Paper pattern 11. Then I added the curvy square frame 2 punch from the Convention 2012 Photobook Template and filled it with pattern 12 of the Winter Frost dsp. The flourishes are Autumn Elements flourish 4 with the smallest basic rhinestones resized even smaller and placed on the tips of the flourishes. I think I will have to make this into a hybrid card to send out to some friends. All those rhinestones would really sparkle! Be fore-warned! This project has many, many layers and you have to be patient as your computer works on the project. Sorting through all the layers takes a lot of time!!!
If you need any of the downloads to make this project yourself, either click on the links below or visit my online store here.
Supplies:
MDS software digital download (130646), MDS software disc (130647), or 30-day Free Trial of MDS (130910)
Background
Winter Frost Designer Series Paper ( 135265) pattern 11
Embellishments
Basic Pearls and Rhinestones (124330) – rhinestone small
Stamps
Autumn Elements (127172) – flourish 4
When The Clock Strikes Twelve Ensemble (136679) – happy new year
Punches
Convention 2012 Photobook Template (130971) – curvy square frame 2 punch,  Filled with:  Winter Frost Designer Series Paper – 12
1.25 Square Punch (comes with program), Fill Color = Pool Party
Decorative Label Punch (123951), Fill Color = Whisper White