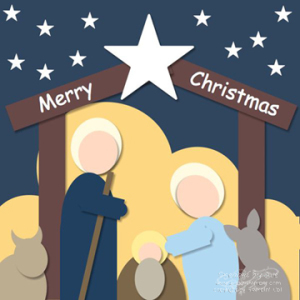 Today is an extra special Terrific Tuesday because it is Christmas Eve! Christmas Eve day can be quite hectic with all the last minute shopping, gift wrapping, and baking. My wish for you today is that you will stop all the busy-ness this evening to spend some time reflecting on Christ's birth and how it changes the way we relate with God and each other. Wherever you are tonight, may you be filled with peace and wonder at the miracle given to the world.
I created the artwork above a year or two ago as a challenge to myself to use MDS punches to CASE a traditional punch art card. My original post is here and the CASEd card here.
Oh, yes, the other two reasons for Tuesdays being special. First, we get new downloads for MDS. View and order them here.
The other reason is that we get a new group of Weekly Deals. Stampin' Up! hasn't said if this program will continue into the new year so we may have only one more chance after this to take advantage on great savings. Check out what is on sale this week then click on the images to choose and order the ones you want.