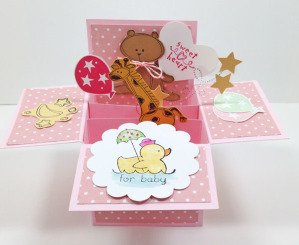 I love making these pop-up box cards! They are easy to make but can take a lot of time depending on the amount of embellishments you add to the card. However much time you spend, the card is sure to surprise and please the recipient.
I used a mixture of current and retired supplies on this baby card. The stamp sets are the retired Bundle of Joy set, the Easy Events set and the balloons came from a long-retired frame set. I used Pink Pirouette cardstock (111351) and a Blushing Bride pattern from the 2013 – 2015 In Color Designer Series Paper Stack (130136) for the base of the card.
For a free tutorial on how to make this type card, sign-up for my mailing list. Those of you who are on my mailing list now, I am moving it to a new provider and you have to re-subscribe.  I am excited and thankful that many of you have already re-subscribed. I urge those of you who haven't already resubscribed to do it soon so you can continue to get my newsletter and other emails from me. You can either use the subscribe box on this page or respond to the email I sent you. After March first I will no longer be using the old provider for The Soggy Stamper Newsletter only. I haven't changed anything yet for News From My Digital Craft Corner.