Good morning! It is Monday and I have a masculine digital Birthday card for you. This was for a sketch challenge on SUDSOL, a demo only group. Here is the sketch: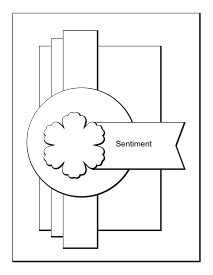 and here is my MDS version: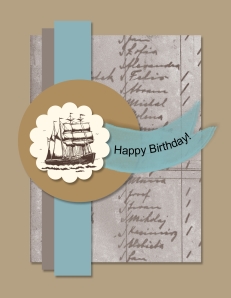 The tricky part of this card is to get the text to curve like the banner I used. To do this you create your text in a text box. Next, you go to the freeform section of the Design Center and add a line. Play with the line until it curves like the banner and then reduce the opacity to 0. While the line (which is now invisible) is selected, hold down the shift key and right-click on the text. This opens a pull-down menu with the option to attach to shape. Click on that and….voila! Your text is now curved! You can change the color of the text, the font, and the size of the text by double clicking on it. You can also play with the amount of curve in the text by pulling on the corner boxes when the text is highlighted.
The banner is from the My Digital Class Beautiful Today Kit. This kit has beautiful watercolor images which means that they are less opaque than usual. So that the background would not show through the banner, I copied it and pasted it in place for a total of three layers. This gave it the opacity I needed. Have you tried this online MDS class that Stampin' Up! has created? Just the elements included in the kit are worth the price of the class. See them here and then click on the image to order the class.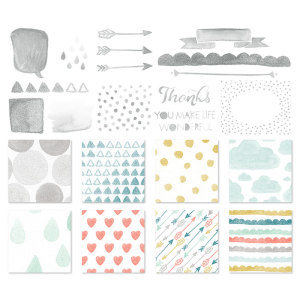 Have fun playing with attaching text to shapes and have fun playing with the sketch. I'd love to see what you do with it. Create a card and then email it to me. I'll share it on my blog.
SUPPLIES:
MDS software digital download (130646), MDS software disc (130647), or 30-day Free Trial of MDS (130910)
Background
Card Stock/Crumb Cake
Stamps
My Digital Class Beautiful Today Kit (1359130 – banner 2, Color = BAJA BREEZE 141,189,193
Adventure Awaits  (129871) – vintage ship, Color = EARLY ESPRESSO 80,57,49
Punches
1.25 Square Punch,  Filled with: Nautical Expedition Designer Series Paper (124111)- 5
1.25 Square Punch, Fill Color = 143,130,123
1.25 Square Punch, Fill Color = 139,178,185
1.25 Circle Punch, Fill Color = BAKED BROWN SUGAR 174,142,94
Scallop Circle Punch, Fill Color = VERY VANILLA 254,249,232