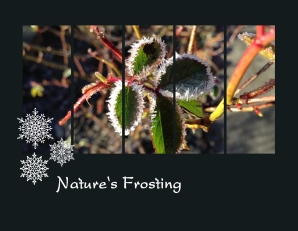 Once in a while you take a special photo that demands special treatment. I created this scrapbook page for the MDS Monday Challenge 49. The sketch has five elongated photo boxes on the page and this photo of frost crystals on the edges of my rosebush leaves is the perfect photo to add across all the photo boxes. I wanted the frost to be the highlight of the page so kept the rest very simple by just adding three lacy white snowflakes from the Festive Flurry Kit.
It is a snap to add one photo across several photo boxes using MDS. Add a photo box, size it and adjust the shape as desired. Then copy and paste to get the desired number of boxes. Arrange them as desired, then select all of them by holding down the shift key while clicking on each box and group them. While the group is selected, drag your photo into the photo box group. Voila! The photo is divided into all the boxes. Experiment with the sizes of the boxes and the alignment of them.
I am going to play with this technique a bit more today and will post a couple of different versions tomorrow. Email me your creations using this technique and I will share them here.
Supplies:MDS software digital download (130646), MDS software disc (130647), or 30-day Free Trial of MDS (130910)
Stamps: Festive Flurry Kit (135250)