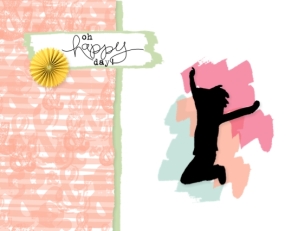 The sketch for MDS Monday this week is a challenge to use watercolor washes in the background. Three of the stamp sets that have watercolor washes are the Be Yourself May Kit (133246), Watercolored Winter Kit (136678), and the My Digital Class Beautiful Today Kit (135913). I chose to use the Be Yourself May Kit watercolor washes for this card. I love the exuberance of the image, greeting, and watercolor washes on this card.
Did you know you can achieve torn edges on layers digitally? Create a photo box and drag your choice of designer series paper or a photo into the box. Then right click on the photo box and the option for ripped photo will be in the list of options. Click on that option. The photo box will be outlined in red and a small square appears on each side of the box. Click on the squares to rip that side of the photo.  Each time you click on the square you will get a different tear. You can also adjust the width of the tear in this screen. I wanted to have two layers torn so I layered two photo boxes filling one with the Amped Up Ampersands – 4 designer series paper and one with Pistachio Pudding color. I encourage you to check out this feature of the photo box options. Email me a copy of your creation and I will share it on my blog.
As you can see, there is unlimited creativity available using MDS and I have such fun challenging myself to reproduce digitally techniques that are done with traditional inks, stamps, and paper. But…you can quickly create simple cards and scrapbook pages using MDS as well. Have you given it a try? You can purchase the software program for only $19.95, download it to your computer and be creating in less than an hour. If you are not quite sure but want to try it out with no commitment, you can download the free 30-day trial. Then before the 30 days are up and you find how much fun it is, you can order the permanent copy of the program and all the projects you have created are seamlessly folded into your continuing library. Click on any of the links below to order.
Supplies:
MDS software digital download (130646), MDS software disc (130647), or 30-day Free Trial of MDS (130910)
Embellishments
Designer Rosettes (131525) – small pointed crumb cake (re-colored) Color = SUMMER SUN 255,196,56
Stamps
Be Yourself May Kit (133246) – wash 2, Color = SOFT SKY 199,227,220; Color = CRISP CANTALOUPE 253,173,150; Color = STRAWBERRY SLUSH 239,79,117
Be Yourself May Kit – silhouette 2, Color = 0,0,0
Be Yourself May  Kit – wash 1, Color = PISTACHIO PUDDING 201,221,176; Color = WHISPER WHITE
Bloomin Marvelous (from a SAB disc) – oh happy day, Color = 0,0,0
Photos
Card Stock/Pistachio Pudding
Amped Up Ampersands Kit (134844) – Amped Up Ampersands Designer Series Paper – 4