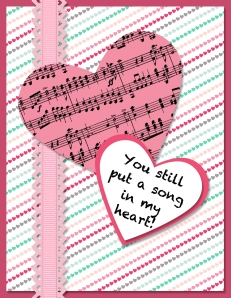 Did you know you can create your own designer series paper and fill a punch with it? For the MDS Monday Challenge 52, we were to use music somewhere on our card. Since Valentine's Day is this week, I wanted to create a valentine to meet this challenge. Every time I have been separated from my husband and he comes back, my heart sings for joy at his return, even after 50 years of life together. I wanted to express this to him through this valentine.
In keeping with the challenge, I wanted to fill the heart punch with music. I could not find any designer series paper in MDS that was music so I created a sheet myself by repeatedly copying and pasting the Music Notes stamp brush set (125765) down the second page of my card with a Regal Rose background. I then saved just the second page as a jpeg to my desktop. I went back to the front page of the card where I had added the Full Hearts Punch and filled it with the 'photo' I had created when I saved page two as a jpeg. Now I had the music notes in the heart. To get the music to rotate with the heart shape I had to be sure to click the box that allows this to happen. (The box is found when you double click on the punch.)
As you go through the supply list below, you will see I added Regal Rose grosgrain ribbon recolored with Regal Rose. Today I  was mystified why I would do that. So I went back to the project, added another Regal Rose ribbon and found it is darker than what I wanted. For some strange reason, when I recolored it with Regal Rose, the result was a lighter shade of Regal Rose. It created just the color to match the Pinking Hearts border punches (122134) which had been colored using the picker to get one of the colors of the Mailbox Love Notes designer series paper. It pays to experiment!
I am going to print out this card front and make a hybrid card to give my honey. I know he will love it. Send me a picture of a project where you add your own designer series paper to a punch and I will share it on my blog.
Supplies:MDS software digital download (130646), MDS software disc (130647), or 30-day Free Trial of MDS (130910)
Background – Card Stock/Rose Red
Embellishments
Regal Rose Grosgrain Ribbon (118851) (re-colored) Color = REGAL ROSE
Punches
Basics/1.25 Square Punch,  Filled with: Mailbox Love Notes – 5 from My Digital Class Mailbox Love Notes (136780)
Borders/Pinking Hearts Border Punch (122134), Fill Color = 244,191,204
Hearts/Full Heart Punch (comes with basic program), Filled with photo of pg 2
Stamps
Music Notes (125765)