For those of us who love photopolymer stamp sets, we have a treat. Stampin' Up! just released a new alphabet set, Sans and Stripes (136796). No, that is not a misspell. When I first read the name, I thought it read Stars and Stripes…LOL! I'm not sure why they named it that. Check it out!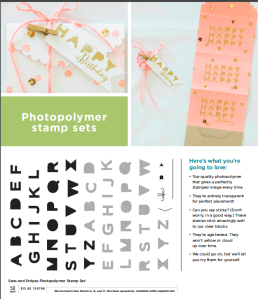 Click on the image to see more details and order the set.
How do you store your photopolymer stamp sets? Post a comment describing how you store them. I keep mine on the plastic sheet they come with and then stack a couple of these sheets in a clear mount stamp case.