Supplies: MDS software digital download (130646), MDS software disc (130647), or 30-day Free Trial of MDS (130910), Watercolor Wonder Designer Series Paper digital download (137077), Grateful Hearts Frameables (135238)
It's Terrific Tuesday and that means new MDS downloads and new Stampin' Up! Weekly Deals! First let me tell you about this wall art I created. I'm so excited that one of the new downloads is the digital form of the Watercolor Wonder Designer Series Paper (137077). I love, love, love this paper and can now use it to my heart's delight without worrying about running out. All I need to do is print out more when I need it. This particular pattern is so beautiful that it stands by itself so all that is needed is a saying. It is so cheerful that it is a perfect background for this saying. This saying pretty much describes how I approach my days. How can a person not find something to be happy about when we walk with a living, loving God? I am going to print off this 8 1/2″ X 11″ poster and hang it on my stamping room wall.
Here is a screenshot of all the new downloads for today. Click here or on the photo to see more details and order your favorites.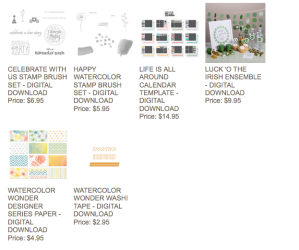 And don't miss out on the Weekly Deals! These deals are only available through next Monday and there is always a chance they will run out of current inventory. Check them out below and here.