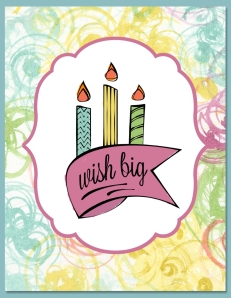 Supplies: MDS software digital download (130646), MDS software disc (130647), or 30-day Free Trial of MDS (130910), Another Great Year Stamp Brush Set (137359), Be Yourself Designer Series Paper – 8 from Be Yourself May Kit (133426), Labels Collection Punch 1 (129336)
Oh, my goodness! Let me tell you…do not change project size/type of a digital project if you have a paint layer on the project! What a mess! All I did was to change from a landscape to a portrait orientation. The stamped image became much smaller and the paint layer became much bigger! I was able to salvage my painting by resizing both the stamped image and the painting until they matched up again but it took a lot of trial and error to get the correct sizes.
I didn't get my usual Terrific Tuesday blog post done yesterday. Ron had an eye appointment in Seattle so we took extra time to have lunch with out daughter who lives there. We had a great time visiting and catching up. By the time we got home, those who live on the east coast were already heading to bed. However…there were some terrific downloads for us from Stampin' Up! I just love it that we can get new things on a weekly basis at a price point that is affordable on a weekly basis. I was excited to see the Another Great Year stamp set being offered in digital form. This stamp set was introduced in the Spring catalog in the traditional hands-on forms and I have grown to love it from seeing all the great examples being created with it.
Now it is available in digital form. Why is that so exciting? Well, for a couple of reasons. First, with MDS files, they don't retire. They are available to purchase indefinitely. Secondly, this particular stamp brush set is a .svg file which means that it can be enlarged or reduced to fit any sized need. So, you could take the big Happy Birthday to You greeting and make it small enough to fit into a 1″ circle punch or you could enlarge it enough to be a banner for a birthday party. In that case you might have to take the file to a print shop that can print out posters or you could attach your computer to an e-cutter to print it and cut it out. With the traditional stamp you are limited to just the 2 1/2″ x 4″ size of the stamp.
See…MDS fits into traditional paper-crafting as well as digital creating. If you haven't given MDS and digital crafting a try yet, you are missing out on a lot of fun and convenience. Contact me for more information and to answer any questions you may have.
Here are the new downloads from yesterday 3-4-14. Click on the links for more details and to order the ones you like.