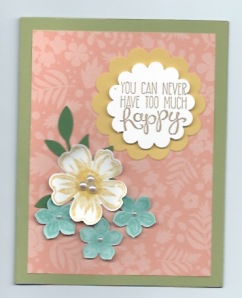 I used the Petite Petals stamp set (w-133152, c-133155), the Petite Petals Punch (133322), the Flower Shop stamp set (w-130939, c-130942), the Pansy Punch (130698) and two scallop punches to create this card for the First Day of Spring. The saying comes from the Yippee Skippee stamp set (w-131341, c-131344). The arrival of the first day of Spring always makes me happy! To order any of the supplies needed to create this card yourself, either click on the links or visit my online store.
I choose Daffodil Delight card stock for the larger scalloped circle because it is so cheerful, sunny and I just saw a field full of daffodils on our drive over to LaConner, WA, today. Feast your eyes!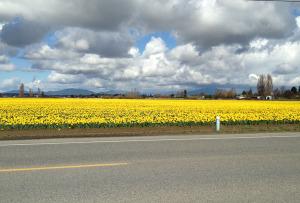 Spring is my favorite season of the year. I love hearing the chirping of the returning birds in the trees, the flowering trees that abound here in Western Washington and all the flowers that burst into bloom. In a few more weeks the Skagit Valley where we live will celebrate the Tulip Festival. During this time, people from all over come to view the gorgeous tulip fields and to buy bulbs. Another sign of Spring is hearing lawnmowers and smelling the fresh cut grass.
What are your favorite parts of Spring? Leave a comment below.