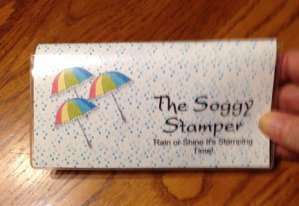 Did you know you could use MDS to create a checkbook cover? With the Custom project option, you can easily make any size project you want up to 24″ x 24″! For my checkbook cover I chose a project size of 6.5″ x 7″. I added a square punch sized 6.5″ x 3.5″ to the bottom half my project and filled it with the Sunshine and Sprinkles Designer Series Paper – 15. After filling the punch I double clicked on it and clicked the minus magnifying glass 3 times to reduce the size of the raindrops. I also reduced the opacity to 80% so my printing would show up better. Then I copy, pasted, and flipped the rectangle and positioned it on the top half. This way the raindrops would still be falling when the checkbook cover was folded in half.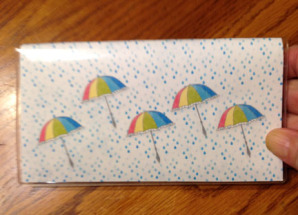 I grouped three of the umbrella embellishments from the Sunshine and Sprinkles Ensemble (130668) on the front of the checkbook and used the same umbrella to make a line of them on the back.  Then I printed the cover out on Whisper White card stock. I purchased the plastic checkbook cover from Stamp on This but I can't find a website for them any more. Here is a link to another place that sells the clear plastic covers. https://www.cistamps.com/checkbook
I am so excited to be able to create this checkbook cover to match my Soggy Stamper branding!
Supplies: (Click on the links or visit my online store to order any supplies you need.)
MDS software digital download (130646), MDS software disc (130647), or 30-day Free Trial of MDS (130910)
Embellishments
Sunshine & Sprinkles Ensemble (130668)- embellishments- umbrella multi
Punches
Basics/1.25 Square Punch,  Filled with: Sunshine & Sprinkles Designer Series Paper – 15 from the Sunshine & Sprinkles Ensemble