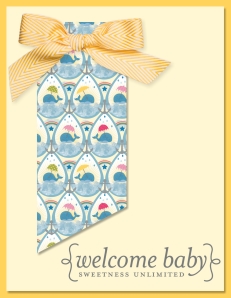 Supplies: MDS software digital download (130646), MDS software disc (130647), or 30-day Free Trial of MDS (130910); Background – Card Stock/Daffodil Delight; Embellishments –     Chevron Ribbon (136719) – crushed curry bow; Stamps – Sweetness Unlimited (124461) – welcome baby, Color = BASIC GRAY 118,122,121; Punches – Basics/1.25 Square Punch, Fill Color = 255,247,211 (from color picker), Extras/Throughout The Years – punch – 7 from Throughout the Years Photobook Template (137902),  Filled with: Sunshine & Sprinkles Designer Series Paper – 3 from the Sunshine & Sprinkles Ensemble (130668)
Did you miss the Terrific Tuesday post yesterday? I apologize for not getting it posted. I spent the day finally getting all the data together to do our taxes. :o(   I'd much rather have been blogging or stamping.
It was difficult to choose which of the new downloads to purchase this week. I love them all but tried to be financially prudent (remember I was doing taxes) so only purchased the Throughout the Years Photobook Template (137902). This is a perfect photobook template for me because it chronicles 50 years in your life. The fifty years could be birthdays but I am going to make a photobook of our 50 years of marriage. We will be celebrating our 50th anniversary this summer and I think a photobook of our 50 years will be a treasured gift for our children. I will be sharing the pages on this blog so keep coming back to see them.
In addition, this template has some really cool punches and designer series papers included in the download. Like I often say, you don't need to think a photobook download is only for scrapbooking. I used one of the punches to create the baby card at the top of this post.
Check out the new MDS downloads for this week, then click on the links for more information about them and to order them.
On Tuesdays we also get new Weekly Deals from Stampin' Up! Check them out! Since these great deals are only for a week, snap up the ones you want by clicking on the links or visiting my online store.