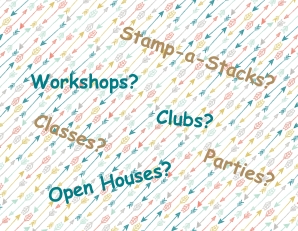 Do you get confused by all the various terms used in the stamping world? Each hobby, avocation and indeed each discipline in the workplace has it's own language. Without knowing what various terms mean, a person has no clue what is being said. I am going to write a series of posts on stamping terms beginning with the terms in the photo above.
Each of these terms expresses a type of interaction between a demonstrator and the customers. By giving the definitions below, I hope you will be better able to choose which stamping events you want to participate in.
Party or workshop – These two terms are used interchangeably. With either one, there is a hostess who invites friends over to their home or to the demonstrator's home for a time of stamping with the intention that the friends will place orders of stamping products so the hostess will earn free product. There is no charge to come. It is a great time to get together for fun and stamping.
Class – This is a class. The demonstrator charges a prepaid fee to attend the class and teaches a technique, how to make a specific product, or how to use a specific stamp or tool. It is not necessary to place an order although orders are always welcome.
Private class – A private class is where the demonstrator comes to your home and teaches a class for you and a few of your friends. There is a class fee and orders are not expected.
Club – This a group of 6 – 10 stampers who agree to spend a specific minimum amount each month so that each club member has a turn at being the hostess for a month. Usually the demonstrator gives a demonstration and the members do some stamping at the monthly meeting.
Stamp-a-Stack – The demonstrator sets up a series of tables with a specific project at each table. There is a fee for attending and the stamper leaves the event with a specific number of cards they have stamped. Usually there are up to five different designs and the customer stamps multiples of each design by rotating from one table to another.
Open House – A demonstrator holds an open house at their home or a public location where customers are invited to come see new products, samples of cards made, stamp a small project and perhaps enter for door prizes. There is no fee to attend and orders are accepted but not required.
Crop – A crop is specifically for scrapbooking. The demonstrator holds the crop in their home or at a public location. The scrapbookers bring their own supplies and photos. Everyone works on their own projects but enjoy snacks, perhaps share a meal, and enjoy each others company. Often short classes, door prizes and other fun activities are offered with the crop.
I hope this clears up some confusion for you when you look at my class list and events on my calendar. I rarely do Stamp-a-stacks but am willing to give it a try if some of you are interested in it. Contact me if you want to host a workshop/party or if there is a specific technique or project you would like me to teach.