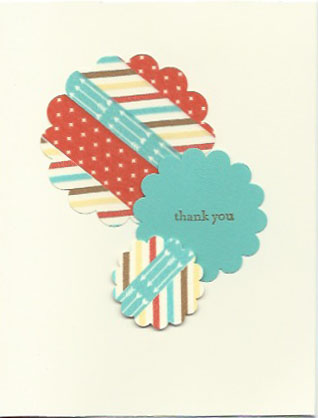 Well I started this post when it was Wednesday but life got in the way so now it is Thursday. I really wanted to share this post with you so here goes.
I have another Washi tape card for you! I am fairly new to the Washi tape scene and didn't know at first what to do with it other than to use it in place of scotch tape to slap photos into a Smash book. After a bit of research and browsing Pinterest and Google, I have learned there are an ever-growing amount of ways to use it. I shared in this previous post a way to use the tape to make a basket weave border on a card. This time I am sharing a Washi tape punched shape technique.
Apply strips of washi tape on a scrap piece of card stock that is a little larger than your punch. Then punch out your shape. I used a variety of sizes of scallop circle punches and the Retro Fresh This and That Designer Washi Tape (133001). The greeting is from the Teeny Tiny Wishes stamp set (wood – 128748, clear – 127802).
Repositionable washi tape comes in all kinds of widths, colors, and designs. Stampin' Up! has the below selections for your enjoyment. Order one or two of the designs by clicking on the photos. Then share your creations by emailing a picture of your projects to me. I'll share them on my blog.
Here are the other supplies used on this card:
Don't forget…email me your projects using Washi Tape!