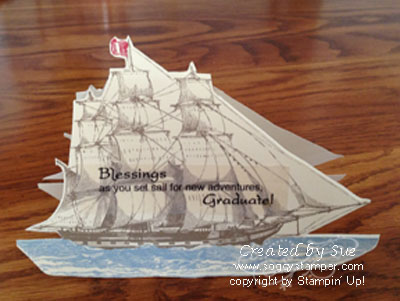 The current MDS Monday challenge is to create a shaped hybrid card. I needed a couple of graduation cards and decided this challenge was the perfect time to get these cards made. I chose to use The Open Sea stamp brush set (124112) for this project. I opened an 8 1/2″ x 11″ portrait blank scrapbook page and added this image to the work space. I then set the dimensions to 5 1/2″ wide and colored the image. I added Very Vanilla cardstock to the background although I really didn't need to since I was going to print it out on Very Vanilla card stock.
Since I wanted two cards, I copied and pasted the image on the same page. I printed it out on Very Vanilla card stock. This gave me my card front. For the card base, I folded an 8 1/2″ x 5 1/2″ sheet of Very Vanilla card stock in half and oriented it landscape way. I held up this folded piece of card stock and the card front to a window so I could position the fold just at the top of the sails and taped the two together. I then cut the image out through both the card front and the card base. All that was left to do is glue the two together.
I created the greeting on the computer and printed it out on vellum paper. I adhered it to the card with tape designed for adhering vellum. Sorry but all the information on the roll of take is that it is scrapbook tape. I have had it a looong time and forget where I got it.
I really love the way this card turned out. I challenge you to make a hybrid shaped card using MDS for your image. If you do, send me a photo of it and I'll share it here. You could say that you had been published. :o)
Supplies:
MDS software digital download (130646), MDS software disc (130647), or 30-day Free Trial of MDS (130910)
Stamp brush set – The Open Sea (124112)
Paper – Very Vanilla card stock and Vellum paper (retired)