The sketch for MDS Monday this week is to use layered circles or any other shape desired. I decided to use stars for my shape and filled the two largest ones with photos of fireworks I took several years ago. I added the swoop of stars from the Anchored stamp brush set (124581). I am pleased how close to the radius of the swoop I got with the curve of the title.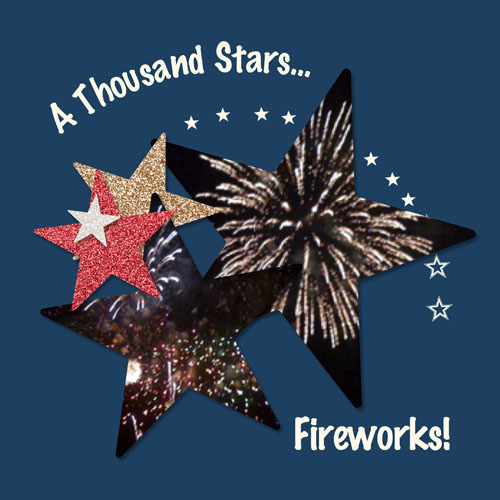 To make the title curve like this :
Open a text box to write your title, size it and color it.
Go to the design center and open the Freeform option. Click on the 'Add Line' option.
A new window will open with the a straight line. Click on the line and then click on 'change to curve to add a couple of points. Drag these points to make a desired curve. If the curve isn't smooth enough, click on a section of the line between two points and add another point. Then click on the other section and add a point there. Move the points until you achieve a smooth line.
Change the line opacity to zero.
While the line is still selected, hold down the shift key and right click on the title. Then choose 'attach to line'. Voila! Your title is now curved. If you double click on the title, you can change the color, font, and size of the text without detaching it from the line. Be aware that if you click on the corner of the text and drag it to enlarge it or shrink it, you will change the radius of the curve.
Now that you know how to attach text to a line, have fun playing with the feature. If you choose to use this this sketch for a scrapbook page or a greeting card, you can upload it to My Digital Studio Monday here. Click on the links or visit my online store to order MDS and the digital downloads I used.
Supplies:MDS software digital download (130646), MDS software disc (130647), or 30-day Free Trial of MDS (130910)
Stamps – Anchored (124581)
Punches – star punch (comes with program)