With the new Hamburger Box Bigzs Die (133724), the lowly hamburger take-out box has been elevated to a work of art! Check out this darling little hamburger gift box I made last night with the the die and  the Flower Frenzy Bigz Die (133728) . It is just toooo cute! I cut it out of some new Lullaby Designer Series Paper (133695).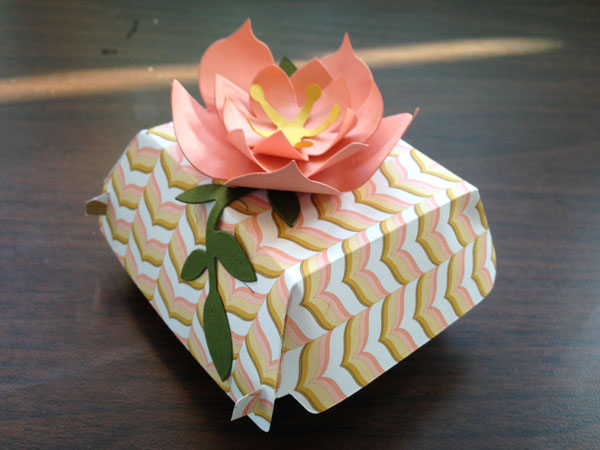 This little box measures about 3 1/2″ x 2 1/2″ x 1 3/4″ tall and is perfect for a small gift or some candy treats. Imagine the surprise if someone opened this little box to find one of the expensive chocolate truffles nestled inside. What a great way to present something like that.
I have a couple of tips for you to make putting this box together easily.
If you are using designer series paper, be sure to put the side you want on the outside of your box down against the die. This way the score lines are on the outside. You want to fold away from the score lines.
Make crisp folds.
Use small dots of the Liquid Multipurpose Glue on the triangular corners.
Use Sticky Strip on the bottom front flaps or the glue if you prefer it.
Make sure the slots on the front of the lid are open. You can insert the tip of your Paper Snips into to open the slot a little wider.
Fold the triangular flaps on the front of the lid so they are lying along the inside sides of the lid so they are not in the way of the slots.
This little hamburger box is so cute you don't even have to dress it up much. Just cut it out of any designer series paper and tie a ribbon around it. Here is another example using the Blackberry Bliss pattern from the Park Lane Designer Series Paper (133694).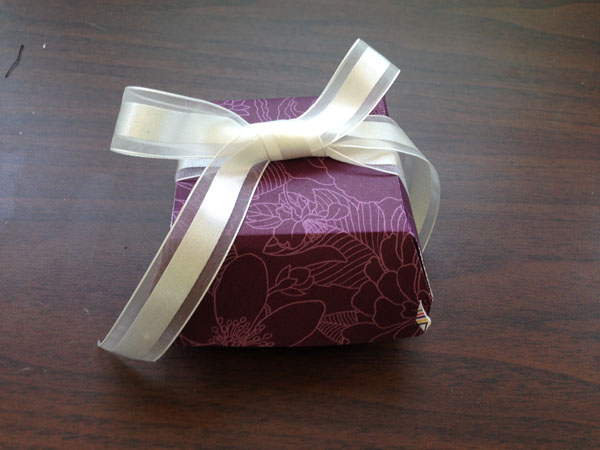 Isn't that an elegant packaging for a small gift? Have I convinced you yet? Don't you need this die? Click on the links or visit my online store to order it. You'll be glad you did and so will I! :o)
Supplies:
Paper – Crisp Cantaloupe (131298), Hello Honey (133678) and Mossy Meadow (133676) cardstock; Lullaby Designer Series Paper (133695), Park Lane Designer Series Paper (133694)
Other – Hamburger Box Bigz die (133724), Flower Frenzy Bigz Die (133728),
Liquid Multipurpose Glue (110755), Sticky Strip (104294)