Whoohoo! You can start ordering the first six colors of Blendabilities today, July 1! Finally the wait is over and I can show you this card I colored with them! I used Ivory and Natural of the new skin colors for the flowers and Old Olive shades for the leaves. The background is the light shade of Coastal Cabana.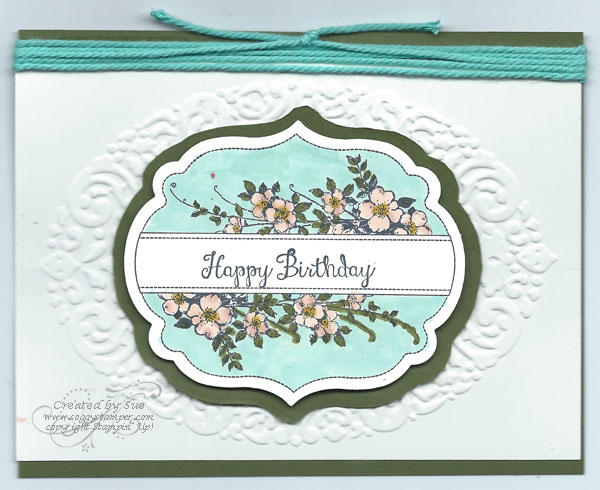 Supplies: Stamps – Apothecary Art (wood-128415, clear-125527), Bloom with Hope (Hostess sets); Cardstock – Whisper White, Mossy Meadow; Other – retired Holiday Frame embossing folder, Apothecary Accents framelits (127003), Old Olive Blendabilities (130999), Coastal Cabana Blendabilities (1310000), Skin Tone Assortment (129370), Memento Ink Pad (132708)
I love these Blendabilities because I can finally color my images with shading. I also like the transparency of the ink. When I tried to color with the Stampin' Write markers, the color covered any shading lines already in the stamped image and when I tried to blend colors, the surface of the paper would get sort of shredded. With the blendabilities, the color is carried on an alcohol base so the paper does not get messed up. These are the colors of Blendabilities you will be able to purchase starting July 1. The rest of the colors are scheduled to be released August 1.
When you order them, you will want to be sure to also order the Memento Ink Pad and the Color Lifter. The Memento Ink Pad is a water-based ink like the Basic Black Stampin' Ink Pad but it dries very nicely on Whisper White cardstock unlike the Basic Black. Stazon is another alternative to the Basic Black but it can't be used with the Blendabilities. Stazon is a solvent-based ink as are the alcohol markers, the Blendabilities. It would run when coloring with a Blendability marker.
The Color Lifter is a colorless alcohol marker to use to push color back into the lines or to lighten a color.
You will also want to use Whisper White cardstock with the Blendabilities. I have used White Shimmer cardstock and it works also. The shimmer shines through the color beautifully! :o)
So get busy! Order your Blendabilities by clicking on the links or visiting my online store. Have renewed fun coloring!