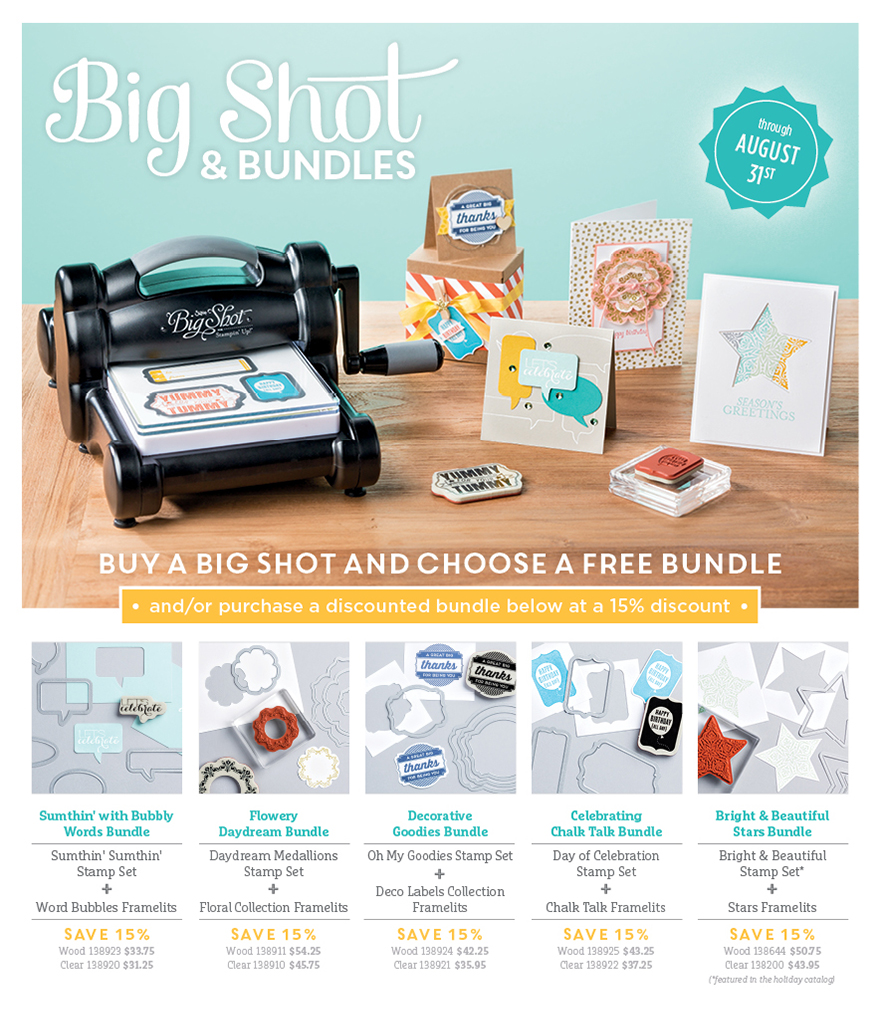 When Stampin' Up! first announced that we would be selling Big Shot die-cutting machine, I debated whether to buy one or not. I rarely do traditional scrapboking and I had associated the Big Shot with die-cutting shapes and letters to put on scrapbook pages. I really wasn't sure I would use the Big Shot all that much. Boy was I wrong! Here are five reasons I absolutely love my Big Shot and use it on most of the cards I make. These reasons are in random order. I really would not be able to choose which one is my favorite.
The Big Shot and Textured Impressions Embossing Folders (commonly known as embossing folders) make dry embossing so quick and easy. There are also other techniques you can do with the embossing folders as well.
You can cut fabric and about 50 other materials with the Sizzix Bigz dies and Originals dies that are steel ruled. Think appliques and quilting applications. The current catalog's offerings are on pgs 232 and 233 in the annual catalog. Of these, my favorite is the Spiral Flower Originals die (129379). Some of the Bigz dies even cut out shapes to make 3-D items like the hamburger box, fry box, and little purse featured on page 233 in the annual catalog.
Embosslits can not only cut out a shape but also emboss it. I used the Beautiful Wings Embosslit with copper flashing to make beautiful copper embellishments. Since the flashing had a vinyl backing to it, I did have to hand cut the butterflies out. If your use colored art foil, I'm sure the foil would cut out completely.
Then there are the Edgelits! What an easy way to cut scalloped edges and eyelet edges for your cards of picture mats on a scrapbook page! Before the edgelits were developed, we had to cut the scalloped and pinked edges with a special pair of scissors. I don't know about you but I had a terrible time cutting an even edge with the scissors.
I love the Thinlits, especially the ones that create flip cards. What an easy way to make interactive cards to send to your family and friends!
Finally, the Framelits make it very easy to layer shapes like ovals, stars, hearts, circles and such. In the last year or so framelits have been created to cut out coordinating stamp sets. Whoohoo! Cutting out a stamped image with a shaped framelit means no fussy cutting by hand. This is quite a time saver!
So many options and all are useful for card-making and for scrapbooking! Do you have a Big Shot? What is your favorite thing to use it for? Leave your answer in a comment below. If you ! is running! Purchase a Big Shot and get one of the select bundles of stamp set and coordinating framelit for FREE! Click on the picture at the top of this post for more information and to order. Those of us who already have and love our Big Shots can purchase these unique bundles for a 15% discount. This sale lasts through Aug 31 so be sure to take advantage of it before the end of August!