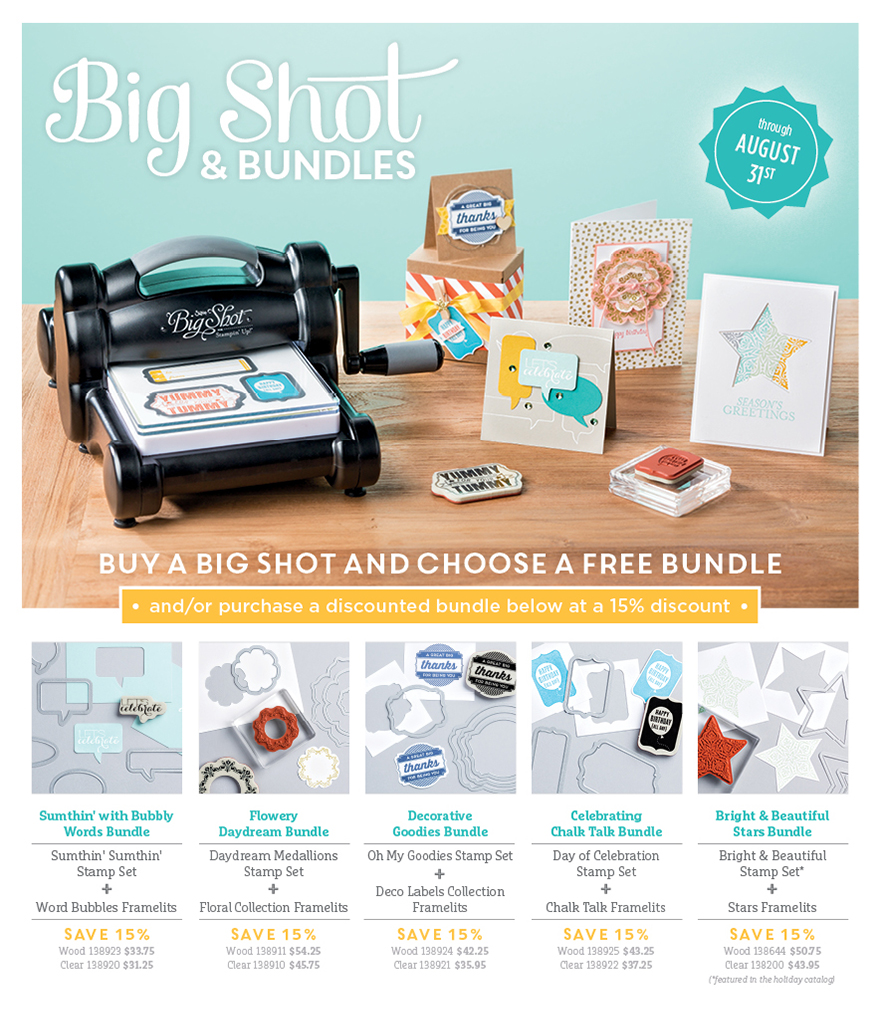 Hey, it's Thursday and you have just a little over a week to take advantage of this special. Purchasing my Big Shot Die-Cutting Machine was one of the very best purchases I have made for my stamping addiction. Yep…it is an addiction. I can't imagine what life before stamping was like! :o) But I digress.
Maybe you are like me and can't see how you would use a Big Shot enough to invest in one. Well, let me tell you…there is hardly a card I create that doesn't involve using the Big Shot in one way or another. And…if you are a traditional scrapbooker, it is a necessity for cutting out letters and embellishments for scrapbook pages. With the advent of framelits and designing framelits to cut out images of a specific stamp set, hand-cutting out flowers and such is a thing of the past. Such a time saver!
The good news is that when you purchase a Big Shot from me at the regular price, Stampin' Up! is giving you the option of purchasing an exclusive framelit/stamp set bundle for 15 % off. You say you already have a Big Shot? Well, you can still purchase these exclusive bundles at a 15% savings. But only through Aug 31. So visit my online store to learn more about the special and place your order. If you prefer, you can email me your order or call me with it.
When you click on the link, you will see two other specials going on right now. Check them out as well. The Short and Sweet special is only for one week so be sure to check it out.